Pioneers Struggled Here, Too
When Jose Altimira traveled through Sonoma Valley in 1823, looking for a place to found a mission, he described Sonoma Mountain as "well-covered with trees fit for building a pueblo." There were plenty of flat places on the valley floor to grow crops; the idea of farming the mountain probably never crossed his mind. Sixteen years later, General Vallejo established one of the first water-powered sawmills in California on what is now Asbury Creek in Glen Ellen, and the cutting of redwoods and Douglas fir began. It was common on the frontier for settlers to be close on the heels of the loggers, moving onto the freshly-cleared land. While the big trees were being harvested from the mountain, Charity and Coleman Asbury and their two year-old daughter Virginia began making their way west from Missouri by wagon. Arriving in Sonoma, they found the best land on the valley floor already claimed.
Looking at their options, they must have considered whether they could make a go of it on more marginal land. In the fall of 1850 they purchased 640 acres on the side of Sonoma Mountain from General Vallejo for $3500. The property encompassed what became the upper part of the original Developmental Center property, running all the way to the top of the ridge.
Over the next two years, their family grew to three children and members of their extended family had migrated west to join them. Coleman's brother joined them and "worked in redwood" nearby. Charity's siblings and parents also lived on the mountain.
Coleman and Charity's farm had four milk cows, three head of cattle, 20 chickens, and ten oxen. Oxen were the heavy machinery of the day; their brute force used for plowing fields, pulling wagons, and hauling sections of big redwoods to the mill.
They likely used them to plow the five acres they had under cultivation, where they grew corn, wheat, potatoes and onions. Their neighbors were also growing hay and raising hogs.
Elsewhere on the mountain, logging continued until about 1856, when the sawmill was converted to a grist mill. After 1852, the Asburys mysteriously disappear from the record. Were they were visited by disease or some other catastrophe? Did they give up farming the mountain because it was just too hard? All that's left is their name on the creek that drains their old homestead. By 1867, their property appears to have been abandoned, with no legal owner. Eventually, William McPherson Hill took over the land and sold it to the State of California in 1890.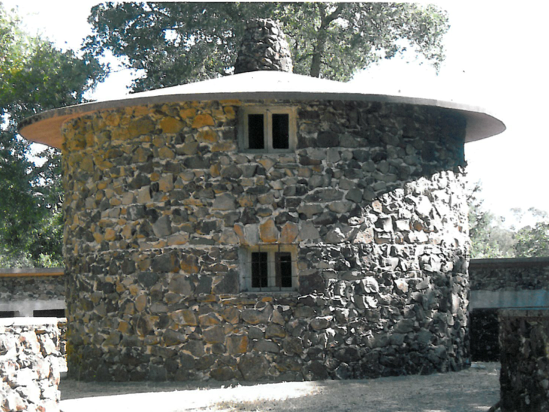 Wresting a living from the side of Sonoma Mountain was tough. Farming probably provided a subsistence living in better years and something less in harder times. Milo Shepard, grand nephew and heir to Jack London's Ranch described these early settlers as mostly Scotch-Irish, similar in heritage to the people who settled the southern Appalachians.
Among them were the Cowans, whose homestead included Cowan Meadow (now in Jack London State Park) in the 1850s. Some locals still remember Hazen Cowan, who was Jack London's foreman and still around in the early 1970s. His brother Norman was a rodeo rider. During one competition, Norman broke his leg. Unwilling to accept defeat, he spent the night in an ice house with his leg between two blocks of ice and went on to win the finals. But even the Cowans were ultimately unable to make a go of homesteading. Scrambling to feed themselves during the depression of the 1880s, they hunted out the last deer and finally had to
abandon their place on the mountain.
There were exceptions to this pattern. Descendants of 'Redwood' Thompson still live on land he homesteaded in the 1850s, along what is now Sonoma Mountain Road. Just to the south, wine merchants Kohler and Frohling started a commercial
vineyard in the 1850s; that land is still in grapes.
But most early settlers were eventually defeated in their attempts to farm the mountain. As Jack London described it: "most of the ranchers were poor and hopeless; no one could make any money there, they told me. They had worked the land out and their only hope was to move on somewhere else. . ." These "farmers of the old school" had "lost their money, broken their hearts, lost their land."
London pieced together his beauty ranch from a half-dozen bankrupt farms and set to work, "rebuilding worn-out hillside lands that were worked out and destroyed by our wasteful California pioneer farmers."
During his brief years on the mountain, London experimented with many crops, growing hay, grapes, and eucalyptus, raising pigs, horses and cattle. Recognizing that the volcanic soil was delicate and prone to erosion, he built terraces to keep it from washing away. He knew that finding the right practices and the right crops
were essential to keeping his ranch going in the long run.
Since his death almost a century ago, London's family has carried forward his vision, carefully working within the limits of the land. Likewise, some of "Redwood" Thompson's descendants still live on the family's mountain
homestead. The land where Kohler and Frohling planted their vineyard is still in grapes. Some kinds of success can be measured only over the course of generations. Where others moved on in broken-hearted defeat, a few have managed to make the mountain a true home.
Arthur Dawson:
Arthur Dawson has long had a keen interest in 'the story of the land. He has served as historical ecologist at the Sonoma Ecology Center for over ten years and is the author of several books, including 'The Stories Behind Sonoma Valley Place Names, a local bestseller. He can see Sonoma Mountain daily from his home in Glen Ellen, but has never quite been to the top.