SMP History & Accomplishments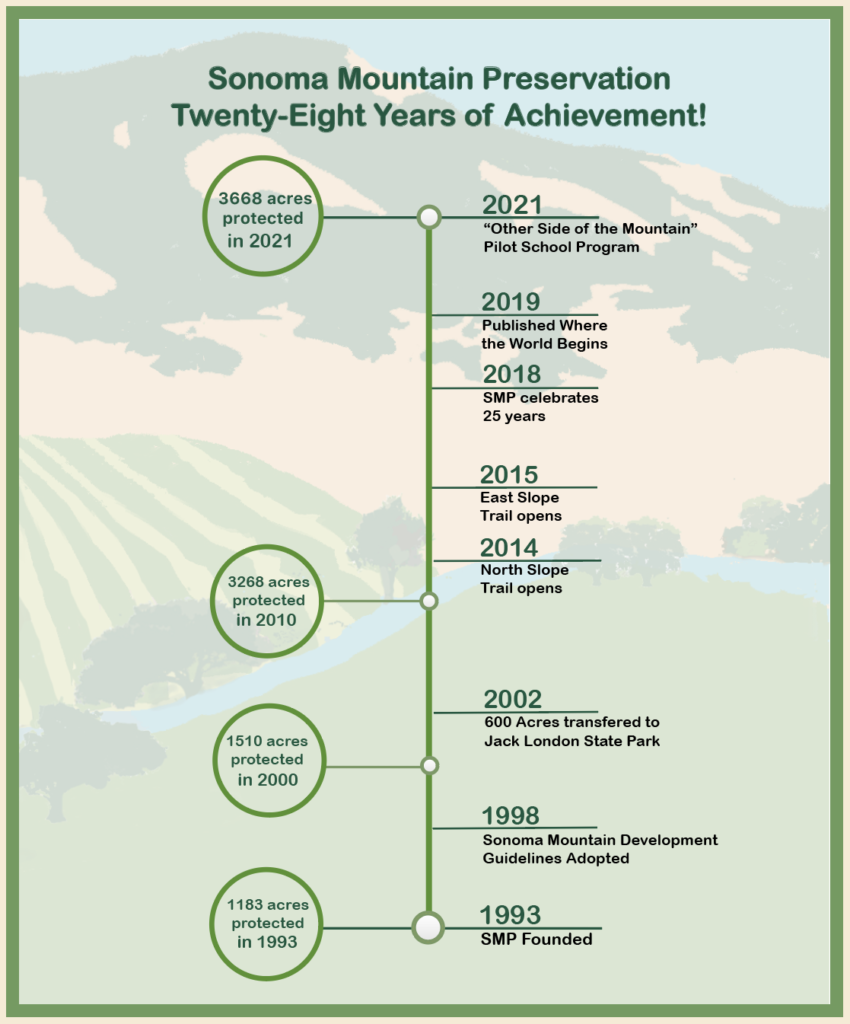 Accomplishments

2021-22: Initiated pilot school program "The Other Side of the Mountain" in ten sixth-grade classrooms around the mountain, in partnership with Sonoma Ecology Center.
2019: Published the local bestselling and award-winning book, Where the World Begins: Sonoma Mountain Stories and Images.
Began offering experiential outings on the mountain.
Lafferty Ranch lawsuit withdrawn, and owner, City of Petaluma, began plans to open the 270 acres to the public
2018: SMP celebrates 25 years of protection, a.dvocacy, and access.
2015: East Slope Sonoma Mountain Trail opens, connecting to Jack London State Historic Park.
2014: North Sonoma Mountain Regional Park & Open Space Preserve opens, connecting to Jack London State Historic Park.
2012: Mayacamas Mountains added to development guidelines. The County Board of Supervisors merged all three areas—Sonoma Mountain, Taylor Mountain, Mayacamas—into one ordinance with added restrictions. SMP Published "What Every Property Owner Needs to Know," about design guidelines for Sonoma Mountain, Taylor Mountain, and the Mayacamas Mountain Range, available at Permit Sonoma office.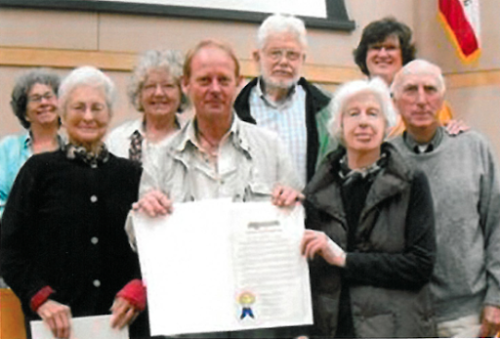 2011: SMP's efforts to protect the mountain acknowledged by the County Board of Supervisors with a Gold Resolution.
2002: Led a successful effort to transfer Sonoma Development Center's upper parcels (600 acres) to Jack London State Historic Park.
1998: Sonoma Mountain Development guidelines—county ordinance to protect visual integrity of Sonoma and Taylor Mountains—is proposed by SMP and adopted by the county.
1993: SMP Founded
---
A History of Organizing to Protect Open Space

Sonoma Mountain founders Pat Eliot and Mickey Cooke first met on Sonoma Mountain as teenagers. They worked at what's now Jack London Park—when it was being run as a dude ranch by Jack's widow Charmian—for three consecutive summers. Their chores were to make beds, wash dishes, and clean cabins. They became close friends who shared a love of horses and this amazingly beautiful countryside.
Pat later traveled and lived in many places in the world with her husband Ted, a Foreign Service Officer, always nourishing the hope that she would return to the mountain with her horse. That dream was fulfilled in 1988 when Pat and Ted moved into a home on the southern end of the mountain and built a barn, paddocks, and fences for two horses.
Pat soon realized that the mountain was threatened by pressures for building more housing on it, with accompanying destruction of its beauty and its resources, especially water.
In 1993, Pat, Mickey, and neighbors Michael Bates, John Barinaga, Win Smith, and George Ellman convened to organize the SMP Preservation Group. They first went to work with like-minded people to keep a development off the East ridge and a road from being built over the mountain.
In 1998, SMP persuaded the County Board of Supervisors to pass an Ordinance governing the building of new houses on the mountain's ridge or anywhere else the mountain could be seen, night or day.
When the state decided to surplus 600 acres of the lands of the Sonoma Development Center (SDC) in 1995, SMP rallied hundreds of community citizens to lobby for the acreage to be transferred to the adjacent Jack London Park. The transfer occurred in 2002. When the state announced the potential closure of SDC in 2015, SMP joined with a community coalition to advocate for both residents and open space. As of 2021, SMP continues to advocate for the 725 undeveloped, open space acreage of SDC to be conserved and transferred to Jack London State Historic Park and Sonoma Regional Parks.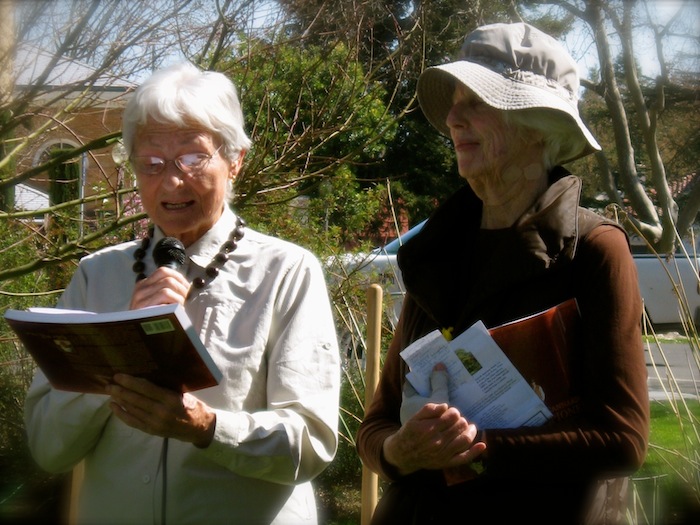 Other open space protection efforts of SMP include:
Supporting the opening of Lafferty Ranch, owned by the City of Petaluma since 1959, to the public. That process began in 2019 when a lawsuit about access was withdrawn.
Completion of a trail along the Mountain's eastern slope—East Slope Sonoma Mountain Trail—in 2015, after an 18-year effort to secure approval from property owners and the County.
Completion of the North Sonoma Mountain Regional Park & Open Space Preserve, including 4.5 trail miles, in 2014.