SMP History & Accomplishments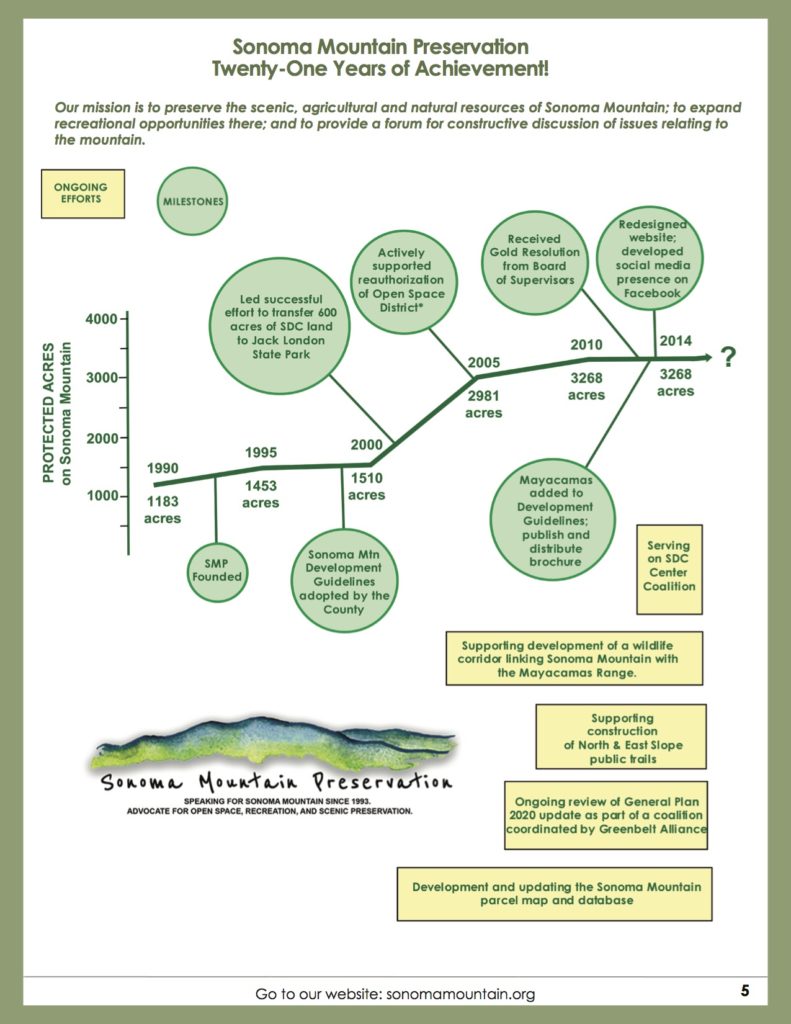 In March 1993, a group including Pat Eliot, Diane (Mickey) Cooke, Michael Bates, John Barinaga and the late Win Smith and George Ellman convened to organize the SMP Group. They defined their area of concern as bounded by Arnold Drive, Warm Springs, Sonoma Mountain, Pressley, Roberts, Petaluma Hill, Adobe and Stage Gulch roads. The area included Taylor Mountain. They soon created a map of the area and began plotting opportunities for preservation.
SMP has championed preservation of open space on the mountain from 1993 to the present. It organized the community to prevent development on critical mountain parcels, including:
Freiberg and Schlumberger (1993-94)
Sonoma Developmental Center upper parcels, transferring 600 acres to Jack London State Historical Park (1995-2002)
McCrea, on which the Open Space District granted funds for a conservation easement that included a public loop trail (2000); in subsequent sale the new owners withdrew the trail offer, setting off litigation, concluded in successfully for the trail access (2010).
Sonoma Developmental Center's remaining 800 wild acres. SMP is part of the Coalition formed to find appropriate solutions for residents and land use due to State's intention to close SDC (2013-2014).
The group also drafted and proposed an ordinance to protect the visual integrity of Sonoma and Taylor mountains and presented it to the County Board of Supervisors for their approval (1996 – 98). SMP created and funded and published a brochure informing the public of the new development guidelines. SMP lobbied to extend development guidelines to the Mayacamas as seen from Sonoma Valley, and to improve aspects of the guidelines; the county approved the inclusion of the eastern region and other changes (May 2011).
Accomplishments
Supported development of wildlife corridors from Sonoma Mountain ridgeline to Mayacamas ridgeline, 2003-2014.
Supported construction of the North Slope and East Slope public trails on Sonoma Mountain.  (2006-2014)
Launched a new SMP annual Journal format, mailed to more than 1600 citizens. (2013)
Redesigned SMP's website and FaceBook page.  (2013)
Proposed county ordinance to protect visual integrity of Sonoma and Taylor Mountains (1998).
Encouraged county to add Mayacamas Mountains to the guidelines. Board of Supervisors merged all three areas—Sonoma Mountain, Taylor Mountain, Mayacamas—into one ordinance with added restrictions in 2012.
Published for wide distribution "What Every Property Owner Needs to Know", a pamphlet containing the design guidelines for Sonoma Mountain, Taylor Mountain and the Mayacamas Mountain Range. (2012)
County Board of Supervisors awarded SMP with a Gold Resolution.  (2011)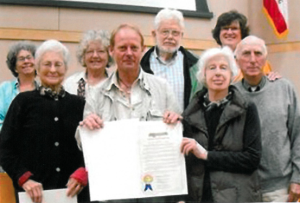 Participated in ongoing review of General Plan 2020 update (2005 to present) as part of coalition of environmental organizations coordinated by Greenbelt Alliance.
Continued to update Sonoma Mountain parcel map and database with assistance from the Sonoma Ecology Center. Approximately 1000 parcels of 5 acres or more, within SMP's area of interest, are identified in the database. (2002, 2004, 2007, 2009, 2011)
Actively supported the reauthorization of the Sonoma County Agricultural Preservation & Open Space District – Measure F. (2006)
Led effort to transfer Sonoma Developmental Center's upper parcels (600 acres) to Jack London State Historical Park (2002)