Sonoma Mountain Preservation (SMP) has been advocating for open space and scenic preservation of the mountain since 1993.
Our mission is to help preserve the scenic, agricultural and natural resources of Sonoma Mountain. We aim 
to:
expand recreational opportunities on the mountain
provide a forum for constructive discussion of issues relating to the mountain
represent the interests of SMP before public and private agencies and organizations
support and encourage development of hiking and equestrian trails for low impact access to the mountain
stimulate interest among like-minded citizens and property owners in supporting all these goals.
---
SMP consists of an all-volunteer board, steering committee, and a broad constituency of concerned citizens. Visitors are welcome.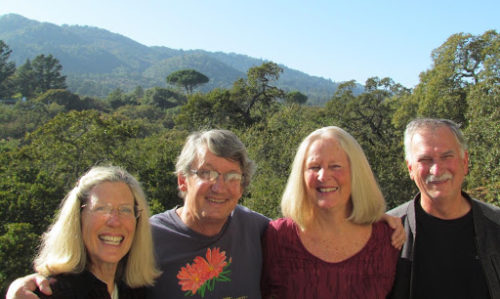 Virtual Steering Committee meetings in 2021 will be held 7/28, 9/29, and 11/03 (Wednesdays) from 3:30-5:30 via Zoom. We combine guest speakers who deepen our knowledge of the mountain with regular SMP business. All are welcome! For more information, please speak directly to one of the steering committee members or email sonomamountainpreserve@gmail.com. Meeting dates for 2022 are as follows: 01/26, 3/30, 5/25, 7/27, 9/28, 11/09.
SMP supports the efforts of other organizations in the county to preserve open space and make it accessible to all citizens, including the SDC Coalition, the Sonoma County Agricultural Preservation and Open Space District, state and regional park districts, and other non-profits, including the Sonoma Land Trust, LandPaths, the Sonoma Ecology Center, and the Bay Area Ridge Trail Council.
---
"This stunning book will inspire people for generations, just as Sonoma Mountain has always done. ~ Dave Koehler, Executive Director, Sonoma Land Trust
Hear author Arthur Dawson introduce SMP's beautiful new book about Sonoma Mountain! You can order the book on the right sidebar, pick one up at one of out launch events, or buy from Reader's Books in Sonoma, or Copperfield's in Petaluma, Sonoma, or Santa Rosa!
As someone blessed with days on Sonoma Mountain, usually in waders about knee deep in a cold creek, arguably there for the sake of science, I know its spell. This incredible montage of spectacular images and words deeply grounded in the silence of the place will ignite a sense of connection between Sonoma Mountain's old friends and new explorers. Here in lies the heart and soul of nature conservation."
 ~ Lisa Micheli, President, Pepperwood Foundation
---
SMP Board
Kim Batchelder – Santa Rosa
Meg Beeler – Sonoma
Bob Bowler – Penngrove
Arthur Dawson – Glen Ellen
Avery Hellman- Petaluma
Nancy Kirwin – Sonoma
Tracy Salcedo – Glen Ellen
Teri Shore – Sonoma

EMERITUS
Helen Bates – Santa Rosa
Mickey Cooke – Glen Ellen
Marilyn Goode – Sonoma
David Hansen – Santa Rosa
Lucy Kortum – Petaluma