Book Launch at Finley Community Center
March 7th 2019, 6 –8 p.m.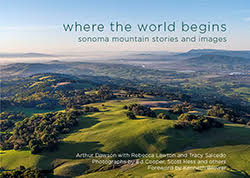 Join us for a celebration of Sonoma Mountain by exploring writings, photographs and maps of this natural treasure. Master storyteller and author Arthur Dawson will read from the newly released Where the World Begins: Sonoma Mountain Stories and Images and share stories told by many who know and love the mountain well. Pick up your pre-ordered books or purchase on site.
Offered in partnership with Sonoma Land Trust.
Register now: https://slt030719.eventbrite.com