Why I Love the Mountain:
A Small Microtus Californicus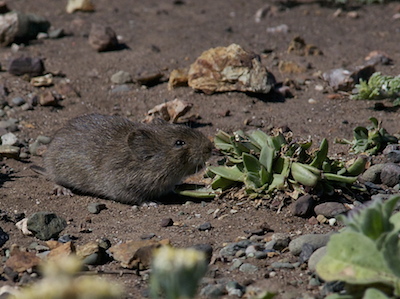 "There, before he reached his hole,
We saw a California vole…
On lush green meadow there were we
Our party now enlarged to three.
Amidst the grass he paused with us,
A small M. Californicus.
The furry fellow spied his goal
Then said good-bye, went down his hole.
A touching moment, we would say,
Which made complete a lovely day."
This post, by Robin Pennell, is one of a series of guest posts from local residents on "Why I Love The Mountain" on SonomaMountain.org. Thank you, Robin for your inspiration at Van Hoosear Wildflower Preserve, one of the privately protected open spaces on the mountain. Photo by Jerry Kirkhart, Flickr.