Walks and Talks on Sonoma Mountain
In October SMP hosted two walks in the Sonoma Developmental Center (SDC), the beloved and beleaguered institution in Glen Ellen that's slated to be sold to a developer whose current plans call for leveling much of what's beautiful, historic, and unusual on the campus.

The first event, a reprise of SMP's popular "History, Horticulture, and Future of the SDC" hike, was led by California Naturalist Carolyn Greene and featured an impromptu presentation by photographer Christian Pease, a former SDC employee and a leading member of the Eldridge Cemetery Memorial Committee. At the newly completed cemetery memorial, which overlooks the unmarked graves of nearly 2,000 SDC residents, Pease described the memorial's components, the forgotten history that prompted its creation, and the political and administrative process that got the project done. The names of everyone buried in the cemetery have been etched in granite slabs on the ADA-accessible viewing platform, which can be reached via a short walk uphill from the campus via Orchard Road.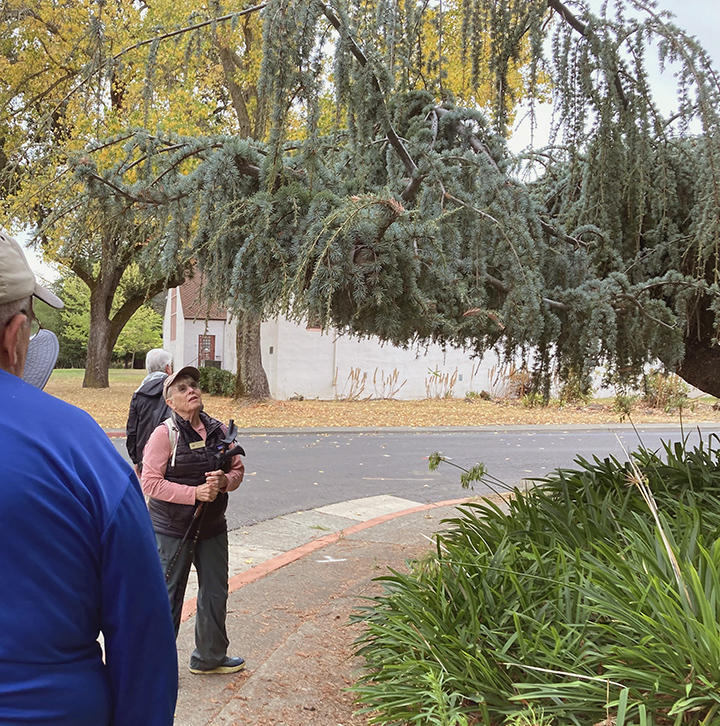 The second hike, "Fall Birds and Migratory Words on Sonoma Mountain," was led by author, scientist, and avid bird-watcher Rebecca Lawton, who guided a half-dozen hardy participants through intermittent downpours to secret spots on the campus and along the trail to Fern Lake where the birds — in surprising numbers and variety — were hanging out. Among the species seen or heard were a tree-full of bushtits yelling "head's up" as a Cooper's hawk swooped overhead, a couple of ruby-crowned kinglets, more than a dozen dark-eyed juncos and lesser goldfinches, a few northern flickers, a Hutton's vireo, a hermit thrush … two dozen species and seventy-four birds in all. Lawton also shared poetry with the soggy but happy participants, including a work by our national poet laureate Ada Limón, who was raised in Glen Ellen. You can read Lawton's SDC-inspired poem, "The Night the County Supervisors Met to Sell the Mountain," here.

A new slate of guided walks on the SDC and elsewhere on Sonoma Mountain is currently in the works. We're hopeful these two wonderful guides will be back to lead again, and that they will be joined colleagues who can share their special connections to the mountain with fellow mountain lovers.

~ Tracy Salcedo, SMP vice chair and "sweep"