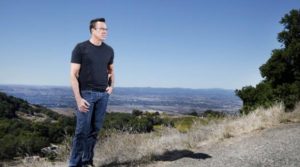 Sonoma Mountain Preservation is cosponsoring Greg Sarris' reading from his new book, How a Mountain Was Made, on Nov. 10.
Join us at Unitarian Universalist Congregation, 547 Mendocino Ave, Santa Rosa, California 95401, from 6-8 PM.
In How a Mountain Was Made, the creation stories of the Southern Pomo and Coast Miwok peoples come alive for settler ears to hear, and for many of us perhaps, for the first time. Sarris will talk about the importance of these creation stories for those of us dwelling in Sonoma County. There will be books for sale and Sarris will sign books after the talk.
As we find ourselves feeling overwhelmed by the cataclysmic Fire in our county and similar events around the world that leave us feeling ungrounded, we turn inwardly in search of a sense of community and belonging. We find ourselves re-discovering the importance of Place and we find ourselves learning about indigenous values and the communities that carry them.
What does it mean to Dwell in Place? What does it mean to be part of indigenous history that now includes settlers like us? What does it mean to know Coyote, Fog, Squirrel, Rain, Waterbug, and Stone as Beings that want to have an ongoing relationship with Sonoma County folks? How can we cultivate that relationship of reciprocity with those beings?
How a Mountain Was Made offers us a gift of entry into this relationship. The stories make us ponder what it means to create a Home we can All call our own. The stories are beautiful, timeless, and wise. Most of all, they are Alive. Let them seep into your body.
Greg Sarris is a renowned author, scholar, teacher, and Chairman of the Federated Indians of Graton Rancheria.